Posts: 23
Joined: Mon May 12, 2014 10:21 pm
Thu Dec 11, 2014 7:32 pm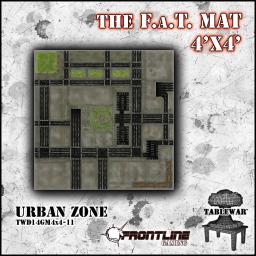 Frontline Gaming and TableWar's Gaming Mats are beautiful, durable mats, perfect for tabletop games. You can get yours here:
http://store.frontlinegaming.org/fat-mat%3A-urban-zone-4x4/dp/6355
These mats are extremely durable, printed on a water resistant surface affixed to a neoprene backing. That means the mat won't slide around on the table, lays flat, resists water and looks amazing. This mat was designed with Hawk to make a fantastic playing surface for your DzC games!
They now come with a sturdy, nylon zip-up F.A.T. Bag for storing and transporting your F.A.T. Mat, and full color F.A.T. Tag so that you can see which mat is in the bag without having to open it, and to write your name on to show which mat is yours