Posts: 99
Joined: Fri Nov 02, 2012 2:26 pm
Location: Denver, CO
Sat Jun 18, 2016 11:17 pm
Now that you've seen the basic units that I've completed, it's time to move on to the next project.
It had to be done. All of my flier bases had to be torn apart and rebuilt from scratch. There were two reasons for this. First, not being able to remove the flight peg meant that transporting the bases was a complete nightmare. Second, having flight pegs at a proper 6" means that the bases need to heavy or they tip over too easy. These were both critical flaws in my original design that could not be corrected. I had to bite the bullet and rebuild them from scratch.
As before, I cut the bases from 1/8" MDF. I then drilled a hole in the middle of the base and attached a Hawk Widget. For flight pegs, I used Plastruct clear acrylic rods that were cut down to 6". Because the rods have slight variances in diameter, I drilled out the widgets halfway down with a 1/8" drill bit. It was and is a bit fiddly (some pegs are to small or two large for some widgets), but I was able to mitigate this somewhat by sanding down the ends of the rods. This made a gentle taper that makes the rods compatible with more widgets. If you attempt this, test frequently and buy twice as many widgets as you think you'll need. Trust me.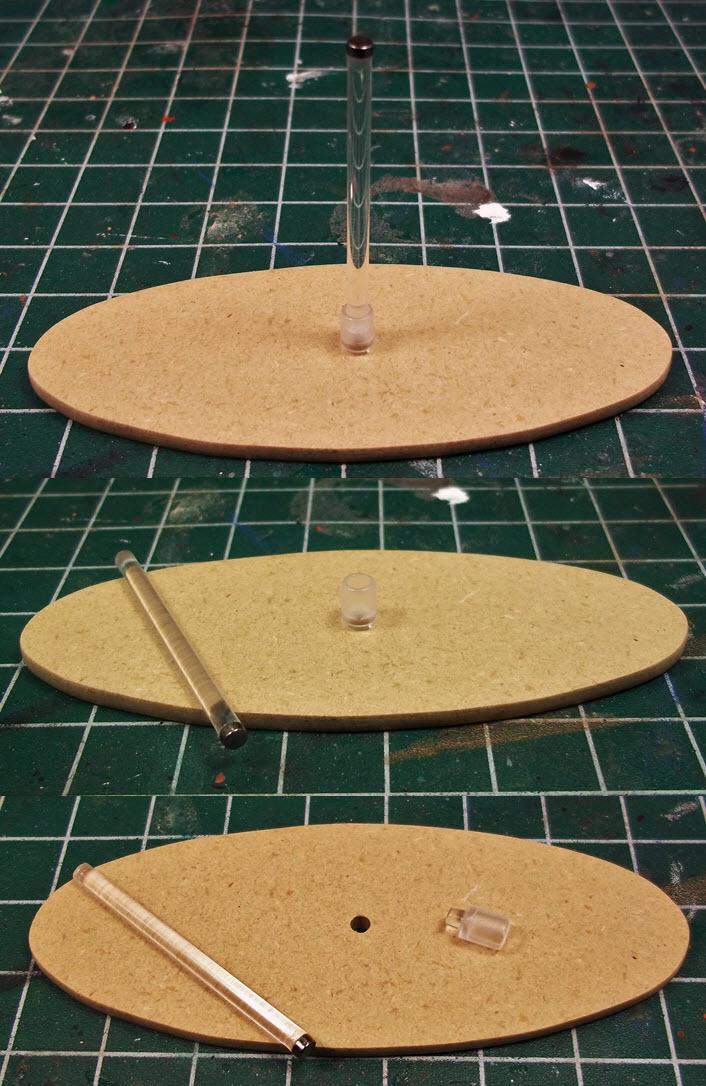 I then used CA glue to attach the widgets and multiple washers to each base. The washers not only add much-needed weight, but also make the top of the flight base more rigid which reduces the risk of cupping.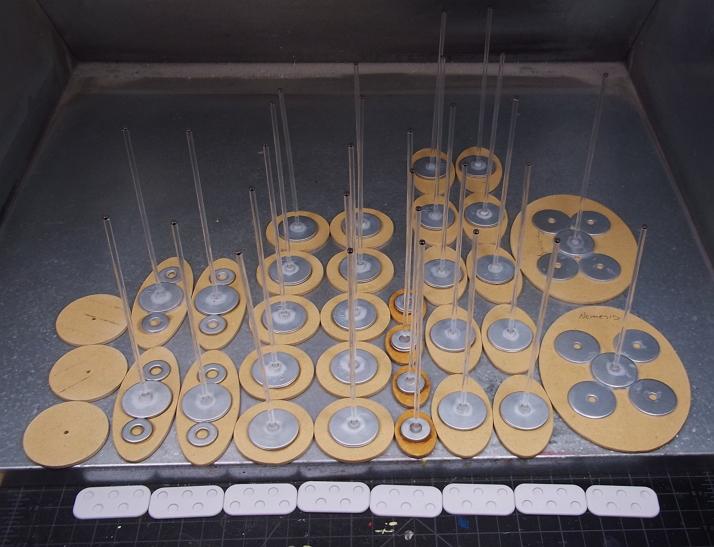 I then sealed the cork (black, dry lava) with watered down PVA glue. I used tap water to thin the PVA to the consistency of milk. I then floated the cork in the watery PVA for a few minutes before drying in front of a fan. I repeated this process twice before gluing the cork to the bases. This provided a good seal for the cork and made it more ridged.
Here are the tools that I used. The brushes were used to weigh the cork down under the surface of the PVA to ensure as much absorption as possible.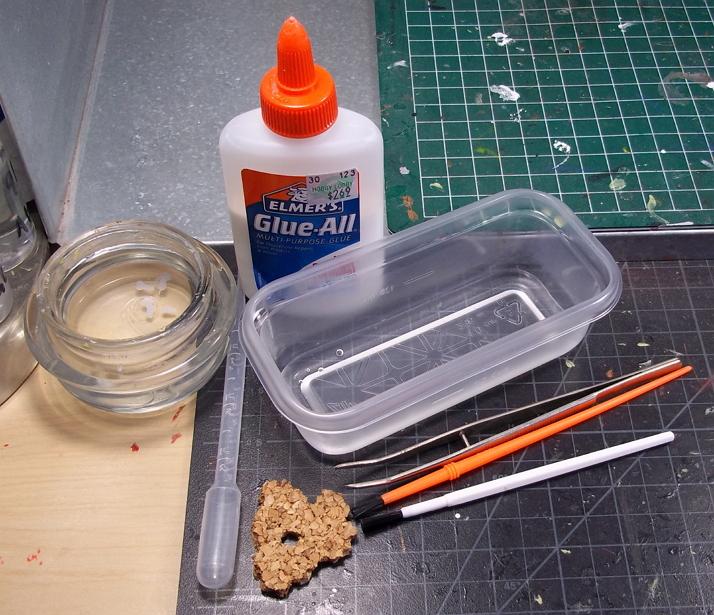 Here's an example of the thinned PVA.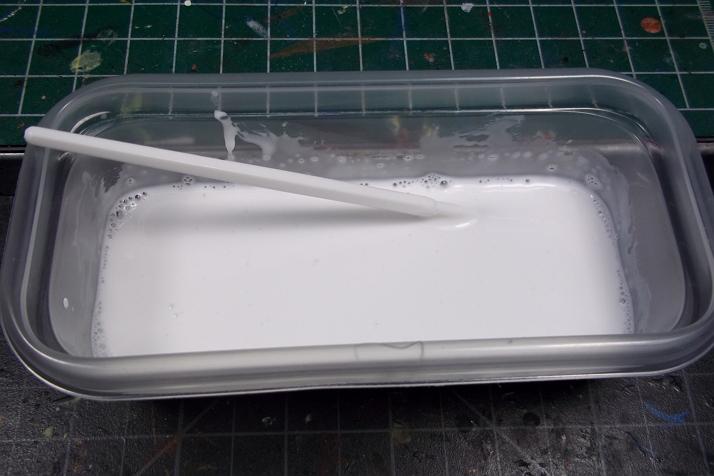 Once dry, I glued the cork to the bases with undiluted PVA and also sealed the edges of the washers with undiluted PVA. I then smoothed the transition between the washers and the MDF with Milliput. Only the PVA is shown in this image. I guess I forgot to take a photo of the Milliput, but you can see it in my older tutorial on
page two of this plog.
I then applied undiluted PVA over the MDF & Milliput to create the lava and allowed it to dry in front of a fan. Expect to repeat this process two or three times to get a good, flowing look.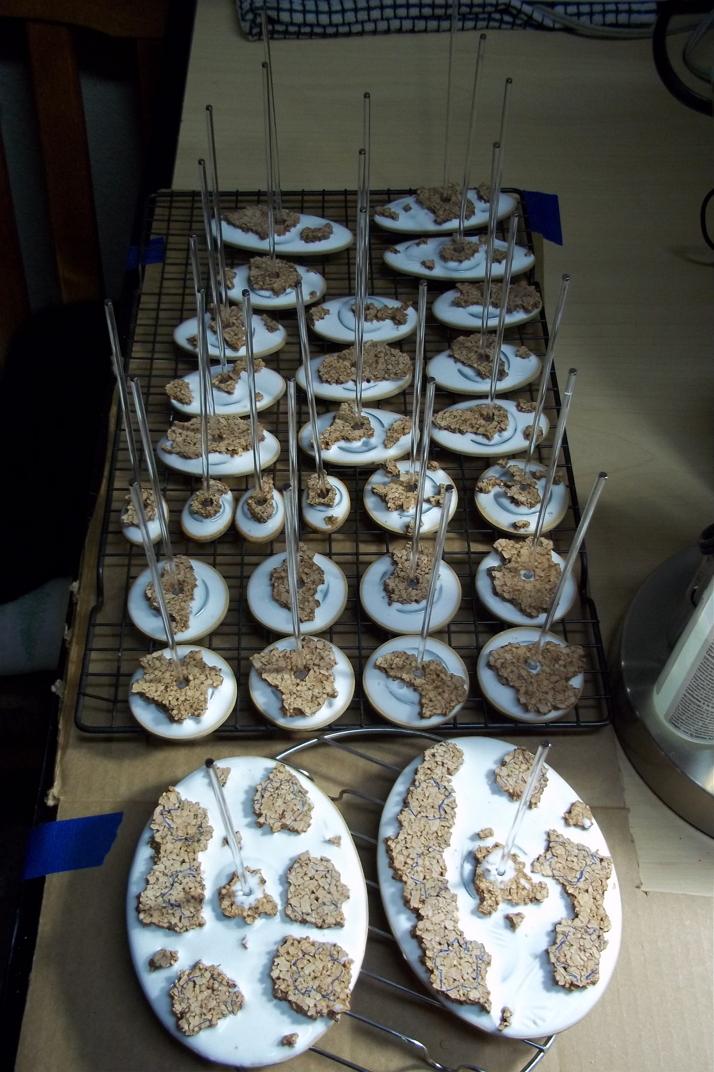 Once dry, they look like this: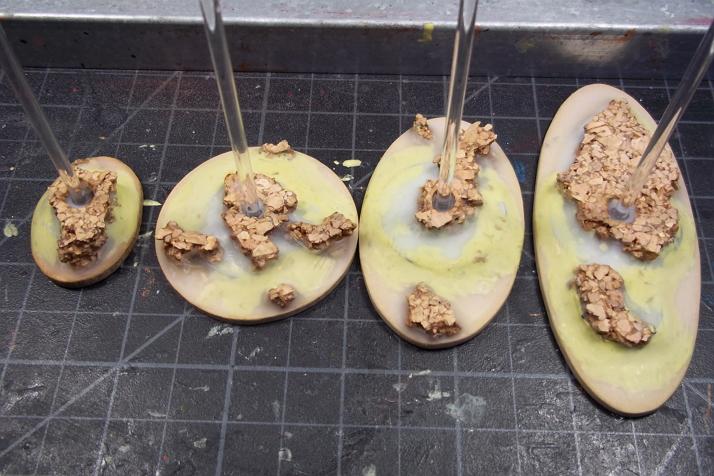 I then painted them the same way as before. I'll list the paint colors here just to make things easy. If you'd like to see pics of the process, the complete tutorial can be found on
page two of this plog.
1. Minitaire 142 Dark Leather around the edges of lava islands.
2. Deepen shadows around lava islands with Minitaire143 Blood Stained Mud. (Leave some Dark Leather showing.)
3. Dust the lava area with Minitaire 112 Ancient Bone. (Apply a bit more to lighter areas.)
4. Minitaire 103 Snow White applied to hottest areas of lava.
5. Minitaire 170 Ghost Tint Yellow undiluted to most of base. (Barely leave some Snow White showing.)
6. Vallejo Game Ink 092 Brown to deepen shadows around lava islands.
7. Minitaire 172 Ghost Tint Orange. Leave some yellow & white showing.
8. Minitaire 173 Ghost Tint Magenta where lava meets islands. (Apply in small doses. Can become too much very quickly.)
9. Drybrush Vallejo Game Color 051 Black around all cork edges. (This helps to bring down reds if they got out of control and to define the cork lava rocks against the bright lava.)
11. Apply Vallejo Black Lava to the surface of the cork.
12. Paint all edges of all bases black.
13. Touchup undersides of bases with black as needed.
14. Spray 2 coats of Glosscote.
15. Brush on 2 coats of ModelMaster Acrylic Matte Varnish on black lava.
Here's a sample of the newly-completed flier bases:
There's some more fun stuff coming up, but they're a bit more in depth and will take some time to put together. I promise it'll be worth the (short) wait.
Questions & comments welcome as always.
Passion has little to do with euphoria and everything to do with patience. It is not about feeling good. It is about endurance. Like patience, passion comes from the same Latin root: pati. It does not mean to flow with exuberance. It means to suffer.